Case study
WW1 Canadian VC recipient Charles Smith Rutherford
The story of Canadian First World War Victoria Cross recipient Charles Smith Rutherford.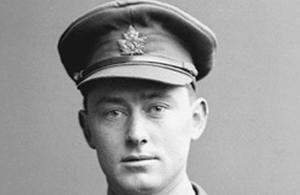 70 men from Canada received the Victoria Cross, Britain's highest award for gallantry, during the First World War. As part of the Centenary Commemorations the people of the United Kingdom marked their gratitude to those courageous men by presenting a bronze memorial plaque to their home country engraved with their names. The plaque is now displayed at the British High Commission Ottawa. This archive tells their stories.
Name: Charles Smith Rutherford
DOB: 9 January 1892
Place of Birth: Colborner, Canada
Date of Action: 26 August 1918
Place of Action: Monchy-Le-Preux, France
Rank: Lieutenant
Regiment: 5th Battalion Canadian Mounted rifles.
Charles Smith Rutherford was born on 9 January 1882 on a farm in Colborner, Ontario. He joined the Canadian Expedition force in 1916. During the course of the First World War he received both the Military Medal at Passchendaele in 1917, and after being commissioned, the Military Cross at Arvillers in France in 1918.
Lieutenant Rutherford was awarded the Victoria Cross with the 5th Battalion Mounted Rifles for an extraordinary feat of bravery whilst leading an assault party at Monchy-Le-Preux, France on 26 August 1918. His citation explains the events:
For most conspicuous bravery, initiative and devotion to duty. When in command of an assaulting party Lt. Rutherford found himself a considerable distance ahead of his men, and at the same moment observed a fully armed strong enemy party outside a 'Pill Box' ahead of him. He beckoned to them with his revolver to come to him, in return they waved to him to come to them. This he boldly did, and informed them that they were prisoners. This fact an enemy officer disputed and invited Lt. Rutherford to enter the 'Pill Box,' an invitation he discreetly declined. By masterly bluff, however, he persuaded the enemy that they were surrounded, and the whole party of 45, including two officers and three machine guns, surrendered to him. Subsequently he induced the enemy officer to stop the fire of an enemy machine-gun close by, and Lt. Rutherford took advantage of the opportunity to hasten the advance of his men to his support. Lt. Rutherford then observed that the right assaulting party was held up by heavy machine-gun fire from another 'Pill Box.' Indicating an objective to the remainder of his party he attacked the 'Pill Box' with a Lewis gun section and captured a further 35 prisoners with machine guns, thus enabling the party to continue their advance. The bold and gallant action of this officer contributed very materially to the capture of the main objective and was a wonderful inspiration to all ranks in pressing home the attack on a very strong position.
Rutherford returned to Canada, married, and established a dairy farm. He served as Sergeant at Arms of the Ontario Legislature, and with the Veterans Guard of Canada during the Second World war. He died in 1989 in Ottawa at the age of 97.
Published 20 June 2016