Case study
The role of women in Afghanistan
A case study on the role of women in Afghanistan from the 2013 Human Rights and Democracy Report.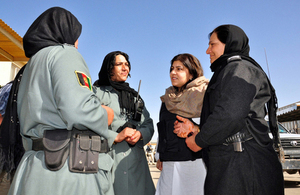 Under the Taliban, the position of women in Afghanistan was among the worst in the world. Changing this situation is a long-term task, in which improving girls' education, increasing economic opportunities and women's representation are key. These have rightly been the focus of the UK's women's rights political and development agendas in Afghanistan to enable women to lift themselves out of poverty and play their equal role in society.
Although there remain many challenges, such as deeply-embedded traditional conservative value and culture, low literacy rates and domestic violence, there has been immense progress over the last twelve years: over two million girls now attend school (40% of those who regularly attend school are girls), compared to almost zero under the Taliban, 15% of university lecturers are female, and there are proportionally more women in parliament in Afghanistan (27% of seats) than in either the UK or the US.
Whilst some barriers for women have been removed, a myriad of social factors continue to prevent women from fully engaging in society, and ongoing international support for Afghan women is still needed. For example, there was debate over the Eliminating Violence Against Women Law in Parliament in 2013, with some conservative groups vocally objecting to attempts to strengthen existing legislation. The Speaker closed the debate early, and the Presidential Decree remains in place as originally drafted in 2009. Similarly, the new Electoral Law reduced the number of seats allocated for women in provincial councils from 25% to 20%. However, the 25% quota remains in place for parliamentary representation.
The 2014 presidential and provincial elections will be a key test for the people of Afghanistan. There is evidence that attitudes are beginning to change in some places. We also support smaller programmes including a project collecting data on threats to female electoral involvement to help tackle issues affecting women voters and candidates. Work with selected mullahs and traditional leaders has led to wider encouragement of women to participate in elections and politics, and political programmes have helped improve female capacity to participate in elections across the country – whether as individual candidates or in political parties. This work will not stop as soon as the elections finish. Instead, female councillors will continue to receive training and support throughout their first years in office.
At present, less than 1% of the country's police officers are women; joining the police has not been an attractive option for women as it is not a safe environment in which to work. At the time of writing, the Minister of Interior was planning to set an ambitious goal of 10,000 female police officers in the Afghan National Police. Despite the recent high-profile appointments of women to senior roles – for example, Afghanistan's first female district police chief has just been appointed in Kabul – more needs to be done to train, retain and create the safe conditions for women to participate meaningfully in the security forces. Eventually, with more women in these public roles, it is hoped they will help to improve the position of women in Afghan society.
Published 10 April 2014