Case study
KTP programme helps Northern Ireland generate business growth
Businesses and universities are working in Knowledge Transfer Partnerships to help businesses grow and universities increase industry links.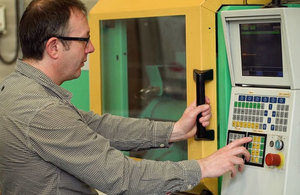 KTPs in Northern Ireland
Over the last 40 years the Knowledge Transfer Partnerships (KTP) programme has helped Northern Ireland businesses become stronger, more competitive and make a positive contribution to the region's economy. It also helps universities increase their links with industry and see practical applications of their research.
The scheme works as a 3-way partnership between a business, an academic institution and a graduate. The university or college employs a recently-qualified graduate who works at the company. The graduate, known as the 'associate', brings new skills and knowledge to the business.
Invest Northern Ireland (INI) manages the scheme in the region and funds it in partnership with Innovate UK. Kevin McCann, Director Research & Development at INI, said:
Invest NI will continue to encourage local companies to embrace innovation and take advantage of the benefits of KTP.
How KTP helps the economy
KTPs provide businesses with access to support, research and expertise that helps them innovate and grow. Queen's University Belfast is the top university in the UK for active KTPs. The university has managed around 350 KTPs with almost 420 graduates employed after taking part.
Professor David Jones, Pro-Vice-Chancellor for Education and Students at Queen's University Belfast, said:
KTP is of great benefit to the Northern Ireland economy, it generates jobs, it generates investment and also allows companies to work in areas that they would not previously be involved with.
Professor Hugh McKenna, Former Pro Vice Chancellor at Ulster University, agrees:
The economy in Northern Ireland is very dependent on small independent enterprises. These businesses can have problems going to the next level of the product manufacturing process so for them to get access to cutting edge science is a perfect solution.
How KTP helps businesses
Martina Tierney is clinical director of Seating Matters, a specialised seating company, and has taken part in a KTP. She says:
As a small family business, when we started out funding was a big issue for us. To carry out research is expensive so I don't think we would have been able to do that without the help of the programme.
Businesses that have taken part in Knowledge Transfer Partnerships achieve on average:
a one-off increase in profits of £86,000
more than £930,000 increase in profits after the KTP ends
an investment in plant and machinery of £330,000
How KTP helps graduates
Hugh Henry took part in a KTP with Queen's University Belfast and IPC Mouldings. He now works at the company as a Design and Quality Engineer. He commented:
The KTP has had a very large impact on my career, I feel that instead of coming into the company on a low level I've been introduced at a much higher level and a major part of the decision making team and I feel that I have a better influence on the direction the company takes.
Published 4 August 2016