Foreign travel advice
Turkey
Summary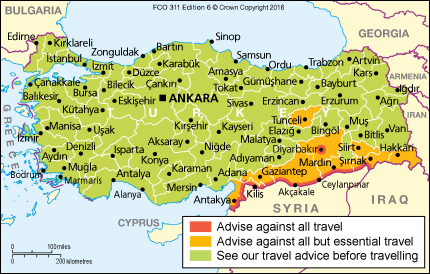 The Foreign and Commonwealth Office (FCO) advise against all travel to within 10 km of the border with Syria and to the city of Diyarbakir.
The FCO advise against all but essential travel to:
the remaining areas of Sirnak, Mardin, Sanliurfa, Gaziantep, Diyarbakir, Kilis and Hatay provinces
the provinces of Siirt, Tunceli and Hakkari
British nationals travelling in Hatay Province (within which we already advise against all but essential travel) should be aware that as a result of the ongoing conflict in Syria, roads leading towards the border may be subject to closure.
Limited flights started operating out of the new airport in Istanbul (Istanbul Airport with IATA airport code ISL) on 31 October 2018. In due course all commercial flights operating in/out of Istanbul Ataturk airport will be transferred to the new airport. Passengers may be affected by the change, including transit passengers, and should contact their airline for further information.
Restrictions on carrying large electronic devices in the aircraft cabin on flights departing from Turkey to the UK, have now been lifted. For more information and advice about what items you can take into the cabin on your flight from Turkey to the UK, contact your airline or travel company.
British nationals made over 1.6 million visits to Turkey in 2017. Most visits are trouble free. Be alert to your surroundings and remain vigilant in crowded places popular with foreign nationals, including during festival periods.
The situation has calmed following an attempted coup on 15 to 16 July 2016. A state of emergency imposed after the coup attempt in July 2016 has been lifted, although some restrictions remain in place. See Political situation
In some busy areas, especially Istanbul, the Turkish authorities are stopping members of the public to conduct ID checks. There's also a larger than usual number of police checkpoints on main roads across Turkey. You should co-operate with officials conducting checks, and keep your passport and a printed copy of your e-visa or your residence permit with you at all times.
Terrorists are very likely to try to carry out attacks in Turkey. Terrorist groups, including Kurdish groups, Daesh (formerly referred to as ISIL) and far left organisations, continue to plan and carry out attacks. Further attacks could be indiscriminate.
Most terrorist attacks have taken place in the south and east of the country and in Ankara and Istanbul. Attacks are most likely to target the Turkish state, civilians and demonstrations. Nevertheless, it's likely that some attacks will also target western interests and tourists from western countries, particularly in the major cities.
The Turkish authorities have successfully disrupted attack planning in the recent past and have said that security has been tightened in response to recent attacks.
You should be vigilant, follow the advice of local security authorities, monitor media reports and keep up to date with this travel advice. See Terrorism.
It's illegal to be a member or supporter of a terrorist organisation in Turkey. Some organisations in the region though not proscribed in the UK, such as the YPG and the Gülen Movement are illegal in Turkey.
British nationals need a visa to travel to Turkey, except for cruise ship passengers with 'British Citizen' passports who arrive at sea ports for tourist visits to the port city or nearby cities, provided that the visit doesn't exceed 72 hours.
If you're visiting Turkey as a tourist or on business, get an e-Visa online before you travel. Only use the official Republic of Turkey e-Visa website. Avoid unauthorised websites as they may charge an additional fee. Some unauthorised websites have issued fake e-Visas.
There have been reports of an increase in holidaymakers being encouraged to submit a claim for personal injury if they have experienced gastric illness during their stay. You can find more information about the action you can take if you have suffered a personal injury on the Citizens Advice website. You should only consider pursuing a complaint or claim if you have genuinely suffered from injury or illness. If you make a false or fraudulent claim, you may face legal proceedings in the UK or Turkey.
If you don't have an e-Visa you can still get a visa on arrival for £20 in cash, although the visa on arrival service is due to be phased out. Getting an e-Visa from the official website before you travel will avoid possible problems or delays at the Turkish border, or when boarding your flight in the UK. See Entry requirements
If you're travelling to commemorate the First World War centenary, see this information and advice page to help plan your trip and make sure it's safe and trouble free.
Many parts of Turkey are subject to earthquakes. An earthquake of magnitude 6.7 occurred off the coast of Bodrum on 21 July 2017. A series of earthquakes of magnitudes up to 5.3 occurred between 6 and 12 February 2017 south west of Canakkale (Gallipoli). See Natural disasters
You can contact the emergency services by calling 155 (police), 112 (ambulance) and 110 (fire).
If you're abroad and you need emergency help from the UK government, contact the nearest British embassy, consulate or high commission. Consular support is severely limited in parts of Turkey where we advise against travel, and limited in the areas we advise against all but essential travel.
Take out comprehensive travel and medical insurance before you travel.